Pushing back refugee boats would be illegal, says Greek minister
Comments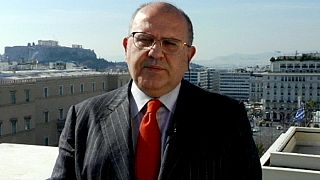 euronews' Efi Koutsokosta spoke to Greece's EU affairs minister, Nikos Xydakis, about an EU report that accuses Athens of failing to register refugees and migrants properly.
Speaking from the Greek capital, Xydakis said it would be an abuse of "international treaties" to try and "push back the boats."
"When they are telling you, you don't protect the sea borders sufficiently, the ones saying so have to explain to us what exactly is not correctly done and what we should do. But nobody makes it specific," he told euronews.
Xydakis also said no EU officials had forecasted the huge influx of refugees and migrants in 2015. The International Organization for Migration says that more than one million entered Europe illegally by land or sea.
Euronews asked Xydakis to comment on speculation that tougher border policing could see some easing of Greece's bailout programme.
"There is no exchange (to be done) for Greece to become a store cupboard of people so our debt can be dealt with more sympathy," he said This is immoral and I don't think that any European institution has thought of it so far."