Europe running out of time to solve refugee crisis, warns EU's Timmermans
Comments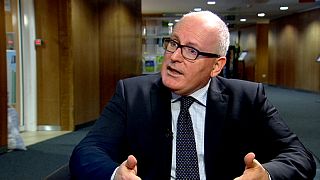 Europe does not have "endless amounts of time" to come up with a solution to the influx of refugees and migrants to the continent, a top EU official warned on Thursday.
Frans Timmermans, a former Dutch foreign minister, is the European Commission first vice-president.
He told euronews' Efi Koutsokosta that Greece must come up with a more effective way to process and register migrants once they arrive on the country's shores.
"What we need to do is to make sure that when people arrive in Greece they are swiftly registered," Timmermans said.
He added that officials should "swiftly select those people who have the right to international protection – refugees – and those who don't have the right to international protection because they come from countries where there is no war or persecution."
His comments come after a Dutch television interview on Monday in which he said that more than half of those fleeing to Europe from the Middle East and Africa are economic migrants.
"More than half of the people now coming to Europe come from countries where you can assume they have no reason whatsoever to ask for refugee status … more than half, 60 percent," Timmermans told the NOS channel quoting figures from Frontex, the EU's border agency.
Six EU member states, including Germany and Austria, have already reinstated temporary border controls for up to six months.
EU officials are considering whether to bolster security at Macedonia's border with Greece and they are mulling a possible extension of internal border controls inside the EU's passport-free travel zone, known as Schengen.