Hopes of 'concrete solutions' to migrant crisis, as Netherlands starts EU presidency
Comments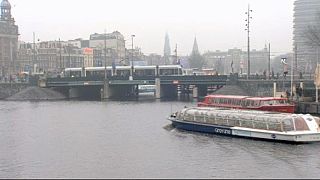 Members of the European Commission are visiting Amsterdam to officially mark the start of the Dutch presidency of the EU Council.
Prime Minister Mark Rutte will receive them and there will be talks with the government on a range of priority issues, including jobs and growth.
Ahead of taking the presidency, the Netherlands has been hit by the migrant crisis.
Around 60-thousand asylum seekers were expected in the country, in all, last year.
One welfare organisation says the Netherlands is coping, but the EU needs to find a solution to the overall issue.
"I don't see that we have a tipping point where society will say 'halt this.' But I think the lack of European solutions, the lack of political solutions are worrying the public, and this is my fear also," said Jasper Kuipers, Deputy Director of the Dutch Council for Refugees.
"And I hope that during the Dutch presidency, we will have some concrete solutions for the European problem that we have."
To streamline the presidency, meetings will be mainly held at the National Maritime Museum and neighbouring historic naval dockyard in Amsterdam.
During the last Dutch presidency, back in 2004, there were more than two dozen locations. The previous logo is also being recycled.
Speaking from Amsterdam, euronews reporter Olaf Bruns said: "For the Dutch government, the EU presidency doesn't come at the best moment. In the polls, the populist far right alone scores higher than the entire government coalition. And that comes with two issues: anti-immigration and anti-European Union."