British PM set for summit showdown over EU reform demands
Comments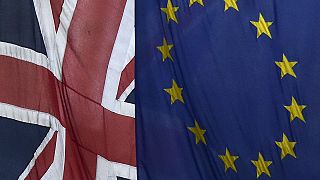 EU leaders meet in Brussels on Thursday and Friday for their final summit of the year – and Britain's push for EU reform is set to be high on the agenda.
One recipe for disaster would be a one-size fits (all) or a European super-state
Prime Minister David Cameron has promised to renegotiate ties, ahead of a membership referendum by the end of 2017.
Cameron has had a boost, with Italy publicly throwing its support behind the drive for reform. Both countries say Europe's future depends on a more flexible approach to membership.
Cameron says he favours the reform option, but is ruling nothing out – if he does not get what he wants.
"Some people say a more flexible Europe, some say a multi-dimensional Europe. And I think that's the sort of vision I will prefer to see, because it shows that actually, in the modern world, you need to be flexible,"
Syed Kamall, a British Conservative MEP, told euronews.
"One recipe for disaster would be a one-size fits (all) or a European super-state."
But one Italian centre-left MEP says London is demanding too much and the EU would be at risk of collapsing.
"We have to imagine Europe as a mosaic. It's clear that if every country takes away a piece of the mosaic, because some think they need economic flexibility, or social flexibility, it's clear that the mosaic won't be an organic picture anymore," said Antonio Panzeri.
"But we need an organic picture, if we want the salvation and the future of Europe."
Limiting benefits that EU migrants to Britain are entitled to is the most contentious among Cameron's demands.
One German official has said they expect this week's summit to lay the foundations for an agreement on EU reform next February.
Euronews reporter Margherita Sforza said: "The idea of a multiple speed Europe, multidimensional, is not new. It's applied to the Euro and to the Schengen zone.
"However, until now, it was an 'exception' – but now it's becoming the solution studied by European leaders to stop the progress of the extreme right and nationalism in Europe."