NATO moves to bolster Turkey's security
Comments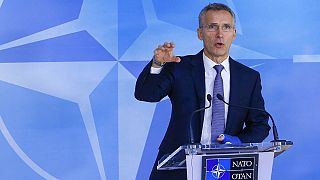 NATO wants to increase security on Turkey's border with Syria after a meeting of foreign and defence ministers in Brussels on Tuesday.
It comes one week after Turkish forces shot down a Russian bomber over an alleged airspace violation.
"We must make full use of the capabilities we have to counter threats on NATO's southern flank," Lithuanian Foreign Minister Linas Linkevicius was quoted by the Reuters news agency as saying.
The United States and Germany recently announced they would withdraw Patriot missiles and military personnel deployed on Turkish soil.
Ministers from the 28-nation alliance have now made fresh pledges of ships, aircraft and other hardware.
"We will work on further measures to assure Turkey's security and we will enhance our support for partners to increase their ability to defend themselves," said NATO Secretary General Jens Stoltenberg.
Diplomats say they remain seriously concerned about Russia, arguing that Moscow's air strikes in Syria are helping strengthen the hand of President Bashar al-Assad.
The Russian government denies this, saying ISIL positions are the real targets.
"We are now adressing how we can develop, strengthen our deterrence and continue to adapt our military capabilities to a more assertive Russia and to Russia which has deployed modern, advanced military capabilities," added Stoltenberg.
euronews correspondent Andrei Beketov reports that NATO officials are briefing that Russia is no longer considered as part to the alliance after its annexation of Crimea and the ongoing conflict in Donbass, Ukraine.
Nevertheless, with Russia wielding such influence in Syria, NATO will have to decide how to get along with such a large and powerful neighbour, our correspondent adds.