MEPs urge tougher stance on jihadists
Comments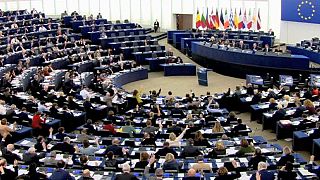 The European Parliament on Wednesday called for an EU blacklist of known or suspected jihadists.
But the motion passed by MEPs in Strasbourg is non-binding and governments have no obligation to act upon their recommendations.
Rachida Dati, the one time protege of former French president Nicolas Sarkozy, says many jihadist sympathisers try to radicalise fellow inmates in prison.
"The more you know those who recruit, the more information you have about the networks and the operations they are planning," she told euronews.
"Because when they recruit individuals, prisoners, in order to radicalise them…they wait for them to be released and to use them as time bombs."
Parliamentarians adopted Dati's report by 548 votes to 110, with 36 abstentions.
But left-leaning members said that will require increased policing and an end of the cuts to essential public services.
Ana Gomes, a Portuguese centre-left MEP, urged governments to "ditch the stupid, blind austerity, which has not only denied means, human and material means to our police and judiciary, so that they can work."
She said this was preventing officials from making sure "that our prisons are not becoming centres for radicalisation but actually centres for rehabilitation of delinquents."
The non-binding resolution also calls for the passports of suspected foreign fighters to be confiscated and for their financial assets to be frozen