Molenbeek holds vigil for Paris
Comments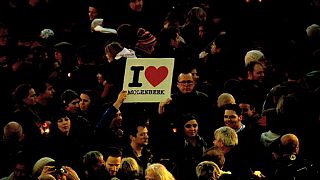 Molenbeek, a neighbourhood of the Belgian capital, Brussels, has been under the spotlight since the Paris attacks.
Key suspects grew up here and it has been the subject of much media attention since Friday's tragedy.
But on Wednesday night, locals organised a vigil to remember those who died.
At least two thousand people – from all walks of life – descended onto Molenbeek's main square.
The neighbourhood's town hall flew the Tricolore, the national flag of France.
People living here reject the idea that this place is a hotbed of jihadist activity.
"We don t accept what happened, we are here to show our support, we are against terrorism, it is not five people who will give a bad reputation to our neighbourhood," one local man told euronews.
"They killed people for nothing," said another man attending the vigil.
A police raid was carried out here on Monday.
But one of the main suspects, Salah Abdeslam, was not found.
The search for him continues.