Is the end really nigh for roaming charges in Europe?
Comments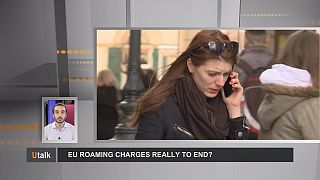 This week on Utalk the question comes from Jane in Dublin, who asks about roaming charges: "The European Union recently agreed to put an end to roaming charges. So, does it really mean I'll soon pay the same price as at home when using my mobile phone in another EU member state? Consequently, won't operators be tempted to increase their domestic prices?"
The answer is from Guillermo Beltrà, Head of the Legal and Economic Department of BEUC, the European consumers organisation:
"The end of roaming charges means you should, in theory, be able to use your mobile phone in another EU country just as if you were at home and for the same price.
"But according to the EU rules your phone company will be able to limit your free roaming use.
"For example, by only letting you roam like at home during a few weeks or months per year or only allow you to use a certain percentage of your normal monthly allowance when your travel.
"We've been promised that the new roaming scheme will be in place on June 15, 2017. But there are certain conditions that need to be met by then. The most important of those conditions is that the EU needs to complete a reform on the way mobile providers connect to each other and this a gigantic task. We are therefore worried that the abolition date will be postponed.
"Until then, there'll be an important decrease in roaming prices effective on April 30, 2016. We'll be able to use our mobile services at 5 cents per minute of calls made, 2 cents per SMS sent and 5 cents per megabite (= of mobile internet use) while abroad.
"The EU law contains some measures to prevent the spike of domestic prices. For instance, operators get a limit on the domestic prices they can charge.
"At BEUC, we welcome the new rules as a step in the right direction towards a truly borderless Europe. But we're disatisfied because the scheme that has been designed contains too many conditions and too many limitations."
If you would also like to ask a question on Utalk, click on the button below.