UN recognition for Afghan refugee who spends her life educating girls in Pakistan
Comments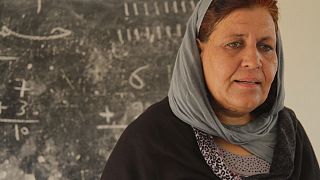 Afghan refugee Aqeela Asifi has dedicated her life to bringing education to refugee girls in Pakistan. Now her efforts have been recognised by the United Nations and she has been awarded the prestigious 2015 UNHCR Nansen Refugee Award.
Being among these people one could sense they were total strangers to, and totally unaware of education
Since arriving in Pakistan from Kabul 23 years ago Aqeela has been teaching not just Afghans, but also Pakistani girls, turning their lives around by opening up a world of opportunity for them.
She started her first school on the Kot Chandna refugee camp in Mianwali, Pakistan.
At first Aqeela faced cultural resistance but eventually managed to persuade the village elders to let her start teaching, and now over 600 girls are enrolled at five schools on the camp.
Over 2.6 million Afghans currently live in exile and over half of them are children. Of those living in Pakistan only one in five has access to teaching, yet the UN says it is vital for successful repatriation, resettlement or local integration of refugees.
In this edition of Reporter you can find out more about Aqeela's remarkable success in providing this basic human right under some of the world's most challenging conditions.