EU asks Turkey's Erdogan for help with refugee influx
Comments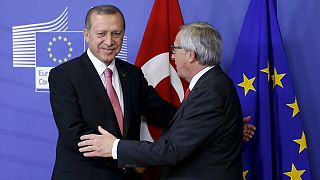 Having been caught wrong-footed by the influx of refugees from Syria, the EU is asking Turkey for help.
Brussels has previously been particularly critical of the government's crackdown on the media back home.
Turkey regularly features low on media freedom ranking worldwide.
But now the EU wants to woo the country's president, Recep Tayyip Erdogan, into stemming the flow of migrants into Europe.
And the former prime minister wasted no time in reminding EU officials in how Turkey has taken in its fair share of people fleeing the conflict in Syria.
"Right now, we have 2.5 million refugees in our country. We've spent 7.8 billion dollars and received only 417 million from the international community," Erdogan told reporters in Brussels.
"In the whole of Europe right now, there are 250,000 refugees and migrants," he said.
"Europe has to manage its borders better. We expect Turkey to do the same," said Donald Tusk, the president of the European Council. "The situation where hundreds of thousands are fleeing to the European Union from Turkey must be stopped."
Erdogan's cooperation will come at a price. He is likely to seek concessions from the EU.
They could include easing travel restrictions for Turks coming to Europe and placing Turkey on a "safe countries" list.
Jean-Claude Juncker, the president of the European Commission, said he supported such moves.
"I'm strongly in favour of seeing the visa issue moving forward, being accelerated," said Juncker. "Turkey has to be on the list of safe countries."
But ultimately, the final decision is for the 28 governments that make up the European Union.
That could come at an upcoming EU summit scheduled to take place in Brussels on October 15 and 16.