Bombing in Syria not World War III, says Russia's EU ambassador
Comments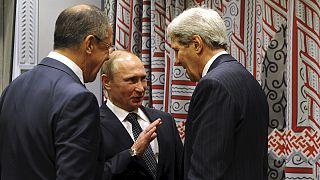 Russia's unprecedented military operation in Syria has raised eyebrows for their intensity if not for their chosen targets.
Vladimir Chizov, Russia's ambassador to the European Union, spoke to euronews' Fariba Mavaddat.
FM: What are the intentions of Russia in Syria?
VC: Russia intends to engage in combating the terrorist threat emanating from ISIL or Daeesh, whatever you call it, and affiliated terrorist organisations. Russia is not only assisting the Syrian army. There are over two thousand Russian citizens – and those of other CIS countries – fighting in Syria on the side of terrorists. We don't want those people to gain victory and then come back.
FM: Why now after four years of unrest in Syria?
VC: I think the situation has now become quite dangerous not only for Syria but for the whole region of the Middle East. We
needed to act in full conformity with international law.
FM: But the Russian military hardware is absolutely staggering. I have some points written down here: 20 ground attack jets, tanks, armoured personnel careers, cutting edge military equipment. Is this the Third World War?
VC: It's not the Third World War. Russia's presence compared to the presence of other countries in the adjoining countries of the region is not that huge.
FM: Is it possible that Russia wants to keep a foothold in th Middle East?
VC: It is not an issue of creating some sort of a foothold specifically. We will certainly continue to be present in the Middle East scene both in diplomatic terms and political terms, and if needed, on the basis of international law, in military terms as well.
FM: Does it mean that once the military operations are over, you shall leave Syria?
VC: I don't know how long this operation will last, but when there is no need for the Russian military presence, of course we have other ways of spending our military budget.
FM: When is it that there is no need?
VC: When the terrorist threat is eliminated, and there is peace and stability.
FM: There have been loud voices in the western media about Russia not targeting ISIL but starting with those rebel groups who fight against president Assad's regime.
VC: The groups that the Russian military has been targeting are ISIL and ISIL-connected terrorist formations including, for example, Jabhat Al Nusra.
FM: How are you dealing with the military operations of the US not to mention France in Syria?
VC: We keep each other informed!
FM: Have you started a parallel political process to end the crisis?
VC: Actually, the political process should be a Syrian-owned political process as agreed by all the major powers back in January 2012. We have not undertaken the role of a mediator. We are providing a venue. We are facilitating for them to talk directly to each other.