Simplifying cross-border inheritance
Comments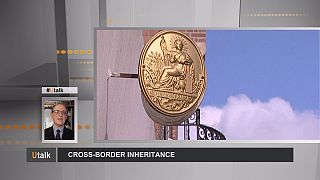 The law on cross-border inheritance has long been a complicated issue in the EU. Clara from Toulouse had this question for Utalk on this issue: "Which court has jurisdiction to deal with a cross-border inheritance and which national law applies? Does the new EU Regulation on international inheritance clarify the situation for EU citizens?
The answer is form the vice-president of the Council of the Notariats of the European Union, Paolo Pasqualis:
"According to the new EU regulation, it's the jurisdiction and the national law of the country of habitual residence of the deceased that apply, which is new and makes things simpler.
"This regulation has entered into force in all EU member states except Ireland, the UK and Denmark. Now those 25 countries follow the same rule to determine the law that applies to cross-border inheritance.
"The problem now is to clarify that concept of "habitual residence" as the new EU regulation does not give us such a definition.
"To do so, we have to consider every single concrete aspect refering to the deceased, such as: the place where that person used to live before and at the time of their death, their links with this place, their familly life, their social relationships.
"If the "habitual residence" becomes important, one can choose in advance the law that will apply (to their inheritance).
"So, the people concerned can choose that the applicable law to their inheritance should be the law of their country of nationality. In case of dual-nationals, for instance, either law can apply which gives them an alternative to better resolve their inheritance question.
If you would also like to ask a question on Utalk, click on the button below