Migrant summit: Hungary's Orban suggests Greece should allow others to defend its borders
Comments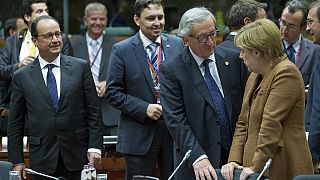 Amid deep divisions and furious rows over how to deal with Europe's migrant crisis, EU leaders have gathered in Brussels to try and unify their response.
The focus of the emergency summit is strengthening external borders and boosting aid to neighbours of Syria.
The European Commission set out a proposal for an extra 1.7 billion euros of funds ahead of the meeting.
Meanwhile, Hungarian Prime Minister Viktor Orban is suggesting Greece – a main gateway for migrants – gets outside help with border control.
"If the Greek are not able to defend their own borders, we should ask kindly, because Greece is a sovereign country, let the other countries of the EU defend the Greek border," he told reporters outside the summit venue.
Orban has also said that he would propose that member states pay more into the EU budget to help cope with the migrant crisis.
European Council President Donald Tusk said that he wanted to see a "concrete plan" come out of the emergency summit, to address the border issues.
"The most urgent question we should ask ourselves tonight is how to regain control of our external borders. Otherwise it does not make any sense to even speak about a common migration policy," he said.
The attempts to patch up bitter divisions comes as the European Commission plans to issue warnings to some member states for failing to follow asylum procedures.
Speaking from Brussels, euronews correspondent Sandor Zsiros said: "It is obviously not a coincidence that the European Commission started 40 new infringement procedures shortly before the summit against members who violate EU migration rules.
"The message is clear: everyone should keep to the common EU position."