EU environment ministers endorse 2030 climate target
Comments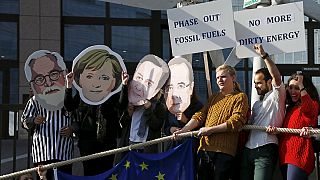 EU environment ministers have formally agreed to cut greenhouse gas emissions by at least forty percent by 2030.
It forms the bloc's negotiating position ahead of UN climate talks in Paris at the end of the year.
But the EU also plan to slash emissions further.
"We are calling on all countries, by 2020, to collectively pick their emissions. This is very important. And also to reduce them by 50 percent, by 2050, compared to 1990 levels," said Miguel Arias Cañete, the EU commissioner for energy and climate action
Environment campaigners say the EU position is too weak; they want fossil fuels to be completely phased out.
"We believe there needs to be an end to the use of fossil fuels during these century and that they actually have to agree on that," said Wendel Trio, the director of Climate Action Network Europe
In the countdown to the Paris Summit, voices are getting louder asking for a serious commitment from the international community against climate change, reports euronews' Pedro Sacadura.