Migration crisis: EU Interior Ministers try to settle quota row
Comments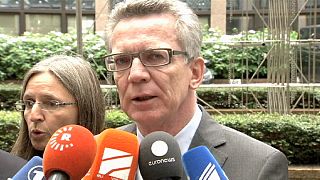 Meeting in emergency session on Monday to discuss Europe's migration crisis, EU interior ministers are on collision course over proposals to distribute asylum-seekers across the continent.
The plan is supported by safe-haven Germany.
German Interior Minister Thomas de Maizière said a clear commitment was needed to set up registration camps for
refugees in hot-spots.
He also called for a clear description of the mechanism for how the redistribution will happen, according to a concrete timetable.
A plan to relocate 40,000 asylum seekers is set to get legal backing
from ministers, partly because this is voluntary.
But the compulsory distribution of 120,000 more faces resistance, notably from ex-Communist states in central and Eastern Europe.
EU quota proposals for migrants already in Europe pic.twitter.com/5oyRK0b1M0

— Agence France-Presse (@AFP) 13 Septembre 2015
Arriving in Brussels, Slovak Interior Minister Robert Kaliňák said the quota system was "not a solution".
He stressed the importance of establishing "how to stop the flow and how to help the people still in the camps in Turkey or Jordan or Lebanon".
Struggling to handle the crisis on the ground and to speak with a single voice, the European Union is facing testing times.
Our correspondent in Brussels, Sándor Zsiros, says the negotiations are being held in a tense atmosphere because of several countries' opposition to a system of mandatory quotas.
Monday's meeting also comes amid worries about the future existence of Europe's passport-free Schengen zone