Europe Weekly: EU calls for urgent summit to tackle migrant crisis
Comments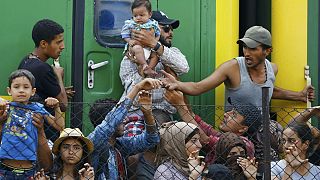 In this week's Europe Weekly, we look at the worsening migrant crisis. Hungary was in the eye of the storm as nearly 3,000 people were forced to remain put outside the main train station in Budapest.
Hungary's Prime Minister Victor Orban maintained the country was applying EU law but he also blamed Germany for the ensuing chaos.
Meanwhile, senior EU officials received an angry welcome as they visited the Greek island of Kos, where an estimated 2,000 people a day enter, fleeing conflict zones in Iraq, Afghanistan and Syria.
Greece, Italy and Hungary, the three countries most affected, will be especially keen to hear of enhanced relocation proposals from the EC Commission President Jean-Claude Juncker.
Also, we look at the European Union's proposal to build a refugee camp to replace "The Jungle" in Calais and Britain's plans to impose heavy fines on lorry drivers found transporting illegal immigrants and refugees.