European ministers to discuss extra train security measures
Comments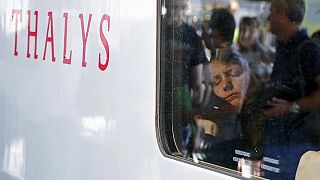 Increased security measures on the Amsterdam to Paris high-speed Thalys train were very much in evidence as it pulled into Brussels main station on Monday.
The heavily-armed French and Belgian police were a consequence of Friday's attempted gun attack.
Nathalie Pierard, a spokesperson for SNCB, Belgium's national rail company, said passengers can also expect to have their bags checked.
"Random luggage searches will be carried out on international trains. So it might take a little time and travellers should know that boarding trains might take more time and that their luggage could be searched," she said.
Passengers are being urged to be patient. But most are happy to comply with the security measures.
"We have already accepted that and much more for air travel, so I don't see why it should be different here," one man told Euronews as he boarded the train.
International travellers from Brussels can take the train to a European member state without any luggage search or identity check. The only exception is the United Kingdom, as it is not part of the Schengen zone.
At the moment, European citizens can move freely within the 26 member states of the Schengen area. The European Commission aims to increase security without compromising this freedom of movement.
"For the police checks, it is important that they do not have the equivalent effect of border controls, so they need to be targeted," said Commission spokesperson Christian Wigand.
The Belgian government insists that the principle of open borders is not being undermined. It is simply putting in place planned exceptional measures, according to the country's Transport and Mobility minister:
"When there's a threat to public or national security, there are measures that can be implemented, temporary measures, notably in relation to identity checks," said Jacqueline Galant.
The Belgian, French and German Transport Ministers are expected to meet in the coming days to discuss improving cooperation between border police forces.