Europe Weekly: NATO supports Turkish airstrikes on militants in Syria and Iraq
Comments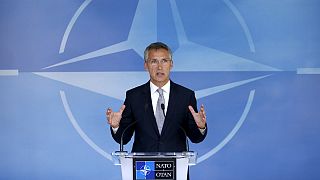 In this edition of Europe Weekly, NATO supports Turkish airstrikes on militants in Syria and Iraq but asks Ankara not to abandon the Kurdish peace process.
EU Foreign Affairs Chief Federica Mogherini heads to Iran for talks on implementing the recent nuclear deal with the Islamic Republic.
The migrant crisis at the French port of Calais turns deadly, as a Sudanese refugee is killed attempting to board a train to the UK.
Former Greek Finance Minister Yanis Varoufakis could face charges related to his plan to reintroduce the drachma if negotiations with the eurozone failed.
Meanwhile Greek PM Tsipras says he won't be blackmailed by "dissidents within his party"http://www.euronews.com/2015/07/30/syriza-faces-internal-battle-as-tsipras-requests-party-vote/ who oppose the country's controversial bailout deal.
Greece has just a few weeks before its next major loan repayment of 3.4 billion euro is due on August 20. Europe Weekly is taking a summer holiday but we'll be back at the end of August to update you on that and other European events.
Click on the player above to watch this edition of Europe Weekly.