Eurozone calls for "solidarity and responsibility" at Greek summit
Comments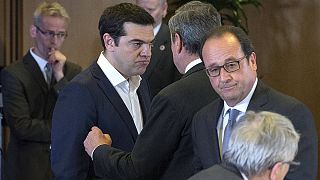 Greek Prime Minister Alexis Tspiras was back in Brussels on Tuesday (July 7) for more emergency talks on his country's debt crisis.
Without solidarity and without reforms, there is no way ahead.
After failing to make a deal last month, he's hoping his victory in Sunday's (July 5) referendum will strengthen his hand at the negotiating table.
But German Chancellor Angela Merkel said she's still looking for Greek reforms.
"We still need solidarity at a European level and responsibility at the national level – in other words: there must be give and take," she told reporters at the European Council before Tuesday's meeting. "Without solidarity and without reforms, there is no way ahead."
Before the meeting, French President Francois Hollande said he is still hopeful agreement can be reached – but he also stressed the need for Greece to act:
"The spirit that I bring to this summit is responsibility, because this is a major European issue and everybody has to do his job; solidarity, because we must overcome once and for all these difficulties, if they are superable; and, finally, speed, because we have to act quickly."
Instead there were more delays: the Greek delegation won't present its written proposal to Eurogroup ministers until Wednesday (July 8), when it will be discussed during a teleconference.
As euronews' James Franey reported from the European Council, time is of the essence if Tsipras is serious about staying in the euro.
"With Greek banks running out of cash and a 3.5 billion euro debt repayment to the European Central Bank coming up on July 20, Mr Tsipras will need to agree an alternative plan pretty quickly to stop Greece crashing out of the euro."