More Greek talks set to end in deadlock
Comments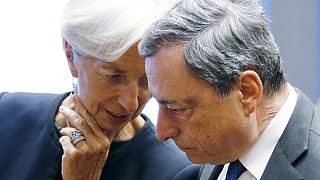 A last chance to save Greece.
Or at least until the next last chance comes along.
Eurozone finance ministers met in Luxembourg on Thursday to try and agree a deal that will see Athens get the last 7.2-billion-euro tranche of bailout aid
Expectations are low, as Dutch Finance Minister Jeroen Dijsselbloem told reporters outside the meeting.
"I won't speculate in what will happen if and when. I have only one job to do today, that it is to see if we can bring that deal with Greece closer, it requires further steps from the Greek side, because we need to have a solid deal," the Eurogroup president said.
With that kind of pessimism, it looks like it will end up in the in-trays of EU leaders when they meet next week.
Greece has to pay the IMF 1.6 billion euros on June 30th.
Failure to pay means Athens will be sleepwalking towards the eurozone exit.
On Wednesday, last night Jean-Claude Juncker had a phone call for a few minutes with Alexis Tsipras.
Our correspondent Efi Koutsokosta reports Greece is trying to find equivalent measures which will put pension cuts and VAT hikes "off the table.