UK's Cameron embarks on diplomatic tour to push for EU reform
Comments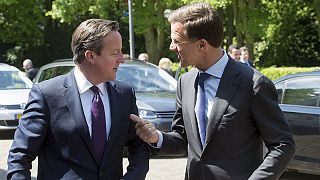 Queen Elizabeth II, Britain's head of state, on Wednesday laid out the key priorities for the UK government over the next five years.
"My government will renegotiate the United Kingdom's relationship with the European Union and pursue reform for the benefits of all member states," the Queen said in her address to parliamentarians.
It is why Prime Minister David Cameron has been embarking upon a diplomatic push all week.
On Monday, he met European Commission President Jean-Claude Juncker for talks at his country retreat, Chequers.
The PM is touring European capitals to test the water ahead of a June summit in Brussels.
The major power player is Angela Merkel.
She agrees with Cameron on improving and completing the EU's single market, but is unlikely to back restrictions on in-work benefits for EU migrants – such as child care payments etc.
Cameron will also meet with French President Francois Hollande, as well as the leaders of Denmark, Poland and the Netherlands.
But what are his chances of success, and just what exactly does he want?
Euronews asked Nina Schick from the Open Europe think-tank in London about the long road to EU reform that the British premier faces.