Count me in: inclusiveness key to breaking down barriers in the Balkans
Comments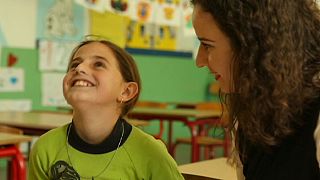 Twenty years on from the ending of the devastating conflict in ex-Yugoslavia and divisions still run deep across the region. Political solutions have brought stability, but the scars of the inter-communal violence have yet to heal completely.
An inclusive school is a school that accepts any student, the gifted ones and the ones with difficulties. Inclusive means that lessons are adapted to the skills of everybody
Much has been achieved by initiatives to build bridges between former enemies and that work is ongoing. One example is an EU-backed programme to enhance inclusiveness in schools, some of which remain segregated along sectarian lines.
In this edition of Reporter, Monica Pinna meets some of the students taking part in the programme, which is being run by the Council of Europe. She encounters young people from a range of ethnic backgrounds and others vulnerable to exclusion for other reasons.
What she discovers is a a uniquely flexible approach to education and a determination among students, teachers and parents to break down barriers that kept people apart in the past.
Watch the video to see her report in full