Hungary's Orban: EU nations should have power over death penalty
Comments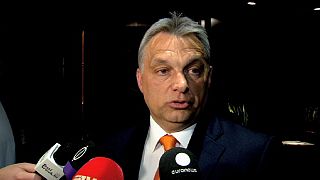 Just more than three weeks after his controversial comments on restoring the death penalty, Hungarian Prime Minister Viktor Orban has been defending his stance to MEPs.
Hungary's premier was appearing at the European Parliament in Strasbourg at the request of political groups from both left and right.
"Hungary is a constitutional country which conducts its political fights within constitutional means. I would be happy to see a change to the European law which would give back the question of the death penalty to the national competence," Orban told euronews.
"It is not there. We have to get it back first. And than we can debate and than decide on this matter. This is the right order," he added.
The centre-right EPP group to which Orban's Fidesz party belongs did not back the call for the Hungarian prime minister to appear before parliamentarians.
"Viktor Orban has clarified that there is no debate and no legislative initiative on death penalty in Hungary and therefore it's no longer an issue," said Manfred Weber, a German Conservative MEP.
The European Commission reiterated on Tuesday that any reintroduction of the death penalty would lead to suspension of voting rights.
The death penalty was abolished in Hungary in 1990 shortly after the end of communism.
Jobbik, a far-right party in Hungary, has stepped calls for capital punishment, putting Orban under pressure to full suit.