EU set to OK plan to destroy smugglers' boats
Comments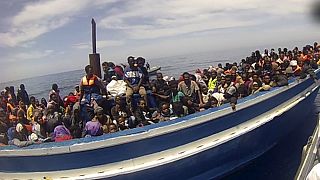 EU foreign and defence ministers met in Brussels on Monday to approve a mission aimed at destroying boats used by people smugglers in Libya.
It forms part of the bloc's response to the number of migrants making the deadly crossing to Europe across the Mediterranean.
The EU will also seek approval for the plans via a resolution passed at the United Nations' Security Council.
"My trips in New York were showing, I have seen at least, no major political resistance or opposition to a resolution. Obviously once we adopt the decision to establish the operation today," EU foreign policy chief Federica Mogherini told reporters in Brussels.
But Vladimir Chizov, Russia's envoy to the EU, was quoted by the Financial Times earlier this month as saying destroying vessels would be going too far.
"Apprehending human traffickers and arresting these vessels is one thing," he told the newspaper on May 5. "But destroying them would be going too far."
Diplomats in Brussels argue by destroying the smuggling vessels, it will break the human traffickers' business model and deter others from illegally bringing migrants to Europe's shores.
"We need a reaction today, to go after the criminal gangs, and to disrupt the trafficking network that means gathering much more intelligence on how these networks are organized and do more to help the countries where the migrants come from," said Michael Fallon, the British defence secretary.
Rights groups, such as HRW and Amnesty International, warn the EU plan will do little to improve the lives of migrants.
According to estimates by the United Nations, at least 60,000 people have tried to reach Europe from Libya this year.
The meeting of top EU officials comes one week after the European Commission unveiled proposals to redistribute asylum seekers using binding quotas.
More countries are growing hostile to such a plan, reports euronews' Margherita Sforza from Brussels.
She says France and Poland have also voiced concerns; French Prime Minister Manuel Valls hit out at the idea of binding quotas.
"I am against the introduction of quotas for migrants. This never corresponded to the French position," he said on Saturday during a visit to the southern town of Mention, close to the border with Italy.