Cyberterrorism: is there a European response?
Comments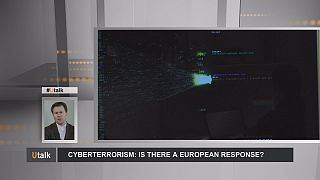 "Since the recent attack on the TV5Monde television channel we have heard a lot about cyberterrorism. Are the risks serious, and is there a European policy to deal with it?" asks Marta from Brussels.
Cyber security expert Nicholas Arpagian attempts to reply.
"The very principle of terrorism is to install a climate of fear in its enemy. Cyber attacks can create a general feeling of insecurity as so many organisations are computer-reliant, from transport to banking systems to industrial processes and even into our personal and professional lives, that major malfunctions can be created.
States are still unwilling to co-operate intensively enough; that's why we don't yet have an international cybersecurity or cyberdefence law. There is only a 2001 Council of Europe convention linked specifically to the fight against child pornography.
Until now we've mostly seen joint operations with states co-operating through Interpol and Europol with police forces. But there's been no real will beyond political statements, no integration of response forces, because each state guards that right for itself, insisting on sovereignity on its digital territory.
A state can damage its adversaries in its own IP Address area, who may on occasion be political or financial partners, but who remain rivals and competitors internationally."