Cuba thaw: is trade taking precedence over human rights?
Comments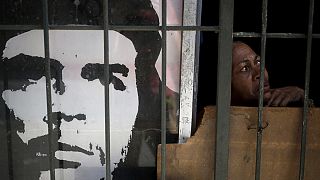 The EU and Cuba have accelerated talks to normalise relations. The US is also ending decades of estrangement as Cuba's Communist regime allows limited reforms.
EU and US companies see opportunities to do business in Cuba, with a lot of pent-up demand for goods among its 11 million people after years of isolation. But is it all happening too fast? Human Rights Watch says arbitrary arrests of dissidents have increased in recent years. Detainees are often beaten and threatened. How long can the Cuban government continue to keep a lid on democracy? And are the EU and US taking the pressure off? Are economics taking priority over human rights?
At the European Parliament, The Network welcomed Javi López, a socialist MP, and member of the Delegation on the Euro-Latin American Parliamentary Assembly; Jimena Reyes, director for America at the International Federation for Human Rights; and Javier Couso, Vice President of the External Affairs Commission on the EP and Unitary Left group.
Chris Burns: "One question for all. Are Europe and the US going too fast on the normalization of relations with Cuba?
Javi López: "Not really. Decades and decades of foreign policy, from the Common Position to the embargo and the rupture of diplomatic relations – led nowhere. Perhaps this will be more effective; a new way of trying to influence the democratic process in Cuba. And to gain relevance in the area it seems natural, the opening of the new world in Latin America.
Chris Burns: "Jimena, what do you think?"
Jimena Reyes: "It's not a question of going too fast, it's about method, and priorities. So we are concerned to ensure that during these negotiations human rights and democracy will be core issues, because it would be a mistake to separate these issues from commercial ones."
Chris Burns: "And Javier?"
Javier Couso: "For me this is late, but not too late. There has been a geopolitical shift concerning Latin America which the US has finally understood. Unfortunately the EU has followed the US lead and although EU foreign policy chief Federica Mogherini has now visited Cuba, it was a bit late."
Chris Burns: "But the Cuban government is still arresting dissidents. Should we do business with them?"
Jimena Reyes: "To include human i the conversation is very important. The Cuban government commits crimes and infringes human rights with these arrests. In that sense human rights should be discussed during the negotiations."
Chris Burns: "It's true that Cuba has freed dozens of political prisoners in the last few years, but Human Rights Watch says dissidents are still mistreated, arrested or even fired from their jobs. Should we have relations with such a government?"
Javier Couso: "Human Rights can't have double standards like the EU appears to think. What if an EU priority partner like Mexico, Colombia or even Morocco kills people or illegally occupies territories…
Cuba has seen terrorism, chemical war, assassination attempts. And in legislative systems worldwide, my country included, any person foreign or not, convicted of subverting the constitutional order can face 20 years in prison."
Chris Burns: "So it would it be hypocritical to be closer to Cuba?"
Javi López: "In recent years, we have maintained commercial and political relations with Cuba. Don't forget that the EU is the largest global investor in Cuba and the second commercial partner. In recent years around 18 countries have established bilateral agreements with Cuba. So these relationships already exist. The question is how to organize them, end the Cold War (this is its last episode), and gain influence over the development of democracy and human rights, both deficient in Cuba."
Chris Burns : "Is Europe making concessions on human rights so as to increase trade?"
Javier Couso: "We shouldn't use human rights as a weapon. We must respect sovereignty and international order: the basic principles of the UN Charter state no interference in the internal affairs of other countries. We got nowhere pressing Cuba. Cuba has maintained its principles and now we have to relate to them because Latin America has changed."
Jimena Reyes: "I think we must put pressure on them, obviously we must. It's good to have dialogue, but we have to ask for concessions. The EU and the US must support Cuban civil society."
Chris Burns: "We are in competition with the US, which is also accelerating their new relationship… is that compromising human rights?"
Javi López: "No, what we want is to have influence over democracy in Cuba, increase human rights, individual liberties, and economic change. This has to be done differently than in previous decades, and that's what we are trying. We can't connect trade to the infringement of human rights."
Chris Burns: "Fidel Castro says that doesn't trust Americans. Why should he trust Europeans?"
Javier Couso: "It's natural that he doesn't trust Americans. The US, despite an extradition order, is home to Luis Posada Carriles, who blew up a Cuban plane killing 78 people. He organized the killing squads in El Salvador. Naturally they don't trust the US. Trusting the EU – as long as there is bilateral dialogue and respect of mutual sovereignty and no interference, there will be no problems with talking about anything. Including human rights."
Jimena Reyes: "Trust is a vital issue. We hope that Raúl Catro has the trust and the intelligence to advance discussions with the EU and the US, including on human rights, in order to be part of the political transition that is coming."
Chris Burns: "We may have to insist on this transition. How can this government move towards democracy?"
Javi López: "For 50 years we have maintained a position that has not boosted democracy in Cuba. We have to remember that. And such an important event as the meeting of Obama and Castro heralds the end of 50 years of western influence in Cuba. Now let's see if dialogue, cooperation and trade can boost the democratic process. Because the US and Cuba have had a very toxic relationship for years."
Chris Burns: "Will capitalism destroy the Cuban lifestyle? Will the Cuban economy end up at the mercy of big international companies?"
Javier Couso: "I don't think so. In Cuba there are high standards of healthcare and education, and less inequality than in other Latin American countries, and the Cubans know it."
Jimena Reyes: "We cannot only look at economic and trade perspectives. Obviously economic and trade opportunities are coming will change Cuban structure, but it could easily become like China, where the political system does not change. This is the challenge for the EU. For the political system to change we have to know how to discuss, talk, draw a roadmap, as was done with Columbia, where specific steps were requested in order to continue with talks. It would also help the Cuban government be part of this transition."
Javier Couso: "Since 2011 there have been signs of the economy opening up. And some signs of political opening. We mustn't tell Cuba what to do, but help it and guide it, through diplomatic and commercial relationships, towards this new democratic order that Cuba needs. And which all of Latin America needs from the new framework relations between the US and Cuba."