Italy criticised for G8 protest 'torture'
Comments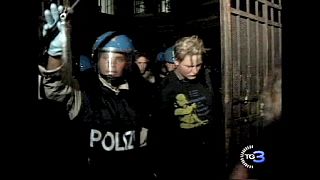 Italy has been slammed by European judges who have ruled that police carried out acts of 'torture' during protests for the 2001 G8 summit.
In a case brought by Arnaldo Cestaro, the European Court of Human Rights agreed that the pensioner was severely beaten by officers during an attack on an activist's headquarters in Genoa.
Read the press statement (in PDF format).
Read the ECHR judgement (in French).
Cestaro, who was 61 at the time, claimed he sustained serious injuries.
Arnaldo Cestaro, l'uomo che ha fatto condannare l'Italia per le violenze Diaz http://t.co/3J6VvoTmRwpic.twitter.com/S50e6VTJW6

— Blitz quotidiano (@BlitzQuotidiano) April 7, 2015
The Strasbourg-based court has ordered the Italian government to pay Cestaro 45,000 euros in compensation. He's already received around 35,000 euros.
The midnight raid, in July 2001, followed three days of violent protests around the summit. Police attacked about 100 activists, leaving more than 60 injured. A subsequent investigation revealed how officers planted weapons at the scene to justify their intervention.
Don't clean up this blood. I'm ashamed to be italian. #G8#DIAZ#Genoapic.twitter.com/vdfoPP5q7l

— AtanasiaFabbricatore (@AtanasiaEF) September 17, 2014
In their verdict, judges from the European Court of Human Rights also denounced Italy for a lack of legislation to punish torture.
They said Rome had failed to identify the perpetrators of the violence.
Proposals to include the crime of torture in the Italian criminal code have been under discussion in parliament for two years.