EU wants to smash barriers to online shopping
Comments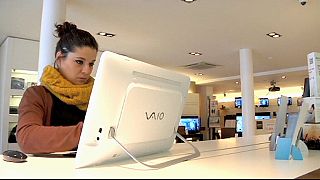 Brits should be able to buy books more easily from Belgian retailers.
And Belgians should be able to watch their favour TV series on British websites.
The EU executive, the European Commission, wants to break down barriers, such as copyright rules, which it says hinder online trading across borders.
"Let us do away with all those fences and walls that block us online," said Andrus Ansip, the Commission vice president for the digital single market.
Officials are focusing on ideas such as simplifying VAT rules and copyright law across Europe.
"Europe cannot be at the forefront of the digital revolution with a patchwork of 28 different rules for telecommunications services, copyright, IT security and data protection," said Günther Oettinger, the commissioner for the digital economy and society.
According to the Commission, only 15 percent of Europeans buy goods online from other EU countries.
But organisations backed by publishers and the film industry say there are
risks.
"I fear that if we make the wrong decisions only the global players will benefit. And in the long run the European consumers will not benefit in a short time European businesses will have more difficulties to compete. This is not protectionism, it's about fair competition," said Per Strömbäck of Netopia-Forum for the Digital Society.
EU officials want to take a practice known as geo-blocking, which automatically routes customers to local sites.
A full strategy from the European Commission will be out in May.
Creating a single European market for digital services was a key priority laid out by President Jean-Claude Juncker when he was campaigning for his current job.