Local Libyan leaders seek peaceful end to conflict
Comments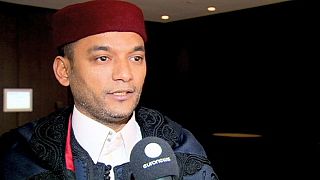 EU and UN officials have called for a peaceful end to the conflict in Libya after a meeting with local representatives in Brussels.
The UN's envoy to Libya said they should have a greater role in decision-making under any new Libyan constitution.
"Together with the legislative power, together with the executive power, we will propose that there is a municipalities council. So (we must) keep working together! because i think the group here will be fantastic starting point for this municipalities council," said Bernandino Leon, who was in Brussels for the talks.
Libya is divided. It has two parliaments and two governments, along with rival army and militias.
The UN talks in Rabat, Morocco, are focused on forming a unity government.
More than thirty mayors and local leaders travelled to the Belgian capital to see what role they could play in brokering a peace deal.
The goal of the meeting with local elected officials is to set up zones to provide humanitarian aid and basic services.
"If the leaders who met in Morocco fail to agree, the Superior Council of Municipalities will intervene and will participate in the formation of a new government. I personally think that the council should be involved in the appointment of ministers," said Fatima Baghi, a deputy mayor of Tripoli.
Libya has been in turmoil since the 2011 Western backed intervention that eventually toppled dictator Muammer Gaddafi.