EU warns on road traffic deaths
Comments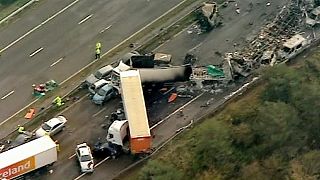 The EU's transport chief says the bloc is failing in its goal to halve the number of road deaths by 2020, from their 2010 levels
Nearly 26,000 people died on the roads last year, a new report shows.
Just over 31,000 were killed in traffic accidents in 2010.
The lowest fatality rates are in Malta, Britain, Sweden and the Netherlands.
The highest are in Bulgaria, Romania, Latvia and Lithuania.
"For me and for all of us, this is a wake up call. We intend to set up for the first time ever a target for the reduction of serious road injuries and define a strategy to meet this target," said EU Transport Commissioner Violeta Bulc.
An annual reduction of eight percent per year would be needed to hit the 2020 goal.
The EU says it plans to backs up local national efforts to improve road safety.
That could include extra legislation and recommendations on issues such as technical vehicle inspections.