EU leaders vow to stand by Tunisia
Comments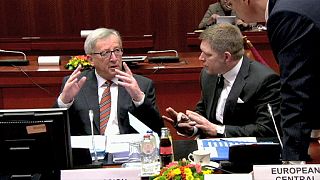 EU leaders have pledged to boost security cooperation with Tunisia following an Islamist attack in the country's capital on Wednesday.
With neighbouring Libya sliding into chaos, the EU is keen to stabilise Tunisia.
The attack on the museum in Tunis by gunmen left 23 people dead on Wednesday; the Islamic State militant group said on Friday that it was behind the killings.
"We can reinforce our cooperation in terms of security and counter terrorism, of course. We can also improve our cooperation on the economic and social level that will reinforce the internal reform that Tunisia is undertaking to strengthen its democratic transition," said EU foreign policy chief Federica Mogherini.
Meanwhile, EU leaders said that sanctions will stay in place until a Ukraine peace deal is fully implemented. Sectoral sanctions against Russia had been set to expire in July.
"It is true that only at the end of the year we will know whether Minsk (agreement) was fully implemented (and) if the control of the border is given back to the Ukraine state. Only then we can have a conversation on what to do next," Polish Secretary of State for European Affairs Rafal Trzaskowski told euronews in an interview in Brussels.
European Council president Donald Tusk added, however, that the bloc is "ready to take further decisions if necessary."
Linking sanctions and the Minsk accord effectively extends them until the end of the year.
That deal set a year-end deadline for Kiev to recover full control over its border.