MEPs urge Russia to start 'independent' probe of Nemtsov murder
Comments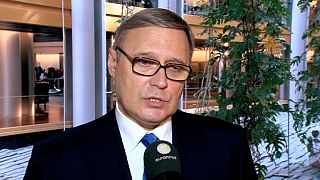 MEPs on Wednesday called on Russia to carry out an independent investigation into the murder of opposition figure Boris Nemtsov.
Parliamentarians were meeting for the first time since his killing two weeks ago.
EU foreign policy chief Federica Mogherini said lawmakers that "freedom of expression is under increased pressure" in the country.
"Opposition parties struggle to exist and to have access to mainstream media," she said.
Germany's Rebecca Harms, the leader of the Green party in the European Parliament, said Russian authorities had often fallen short in investigations before; it is a charge that Moscow denies.
"I'm not at all convinced that Russia and russian authorities are able to do an independent investigation. Too many cases of similar killings have been opened and not completed," Harms said.
"The hope of democracy in Russia is almost crushed," said UKIPMEP Gerard Batten. "The best short-term hope for everyone is that some of his more moderate colleagues can be prevailed upon to depose him."
One former Russian prime minister turned opposition figure hinted that someone close to the government was behind the killing.
"The murder of Boris Nemtsov – me and my comrades consider it as a political reprisal. It is very important for us to feel this solidarity," said Mikhail Kasyanov, who was in Strasbourg for the plenary session.
Five Chechen men are accused of being linked to Nemtsov's murder; two are alleged to have actually killed him.
Andrey Babushkin, a member of the Kremlin's advisory council on human rights, said on Wednesday three who had confessed probably did so under duress.