British MEP tweaks passenger data bill to win support
Comments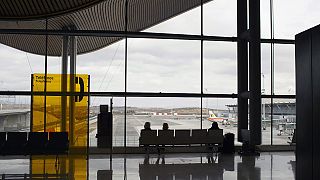 After the Charlie Hebdo attacks, EU officals have revived a proposal to collect air passenger data and share it across Europe.
British Conservative MEP Timothy Kirkhope is tasked with steering the draft law through the European Parliament.
He has now proposed that sensitive data should be deleted after 30 days in a bid to win support for the bill.
"Terrorists are very sophisticated nowadays and they do not fly direct routes. they always fly indirectly, and that is something we are at the moment able to detect, i'm pleased to say, but it is more complicated now," he said.
"I think this (new proposal) would made it much easier for the law enforcement authorities to follow people how are suspicious."
Left of centre parliamentarians argue that gathering large amounts of data is useless and say there is little evidence to support the claims that it stops terrorism.
"The attackers of Charlie Hebdo, the guy in Toulouse, the attack on the Jewish museum in Brussels; 10 years ago in my own home city of Amsterdam, the murderer of Theo van Gogh," said Judith Sargentini.
"They were all known people! Could we please follow them, instead of just putting your data and my data into a computer?"
The decisive factor for the approval of a European Passenger Name Record will be the dialogue between the 3 institutions: the European parliament, the commission and the council, which represents the member states, says euronews' Margherita Sforza.
She adds that the commission might table a new proposal in order if negotiations stumble once again.
MEPs first voted down a similar bill in 2013 on civil liberties grounds.