What you need to know about opening a bank account abroad
Comments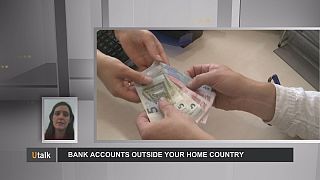 The challenges of opening a bank account in another country are explored in this edition of Utalk.
The question comes from Alexandra in Prague: "I have recently moved to the Czech Republic for a job. Will I be able to open a bank account there and make transfers back to my country of origin, Austria"
Alexandra, Prague
The response is from Jimena Gomez de la Flor, Europe Direct Communications Officer: "Actually, when you open a bank account in another EU country, the bank is free to choose if they accept or not your application because they need to know their potential clients.
It can happen that they refuse your application if you don't live in that country or even if you are a short term resident, because they would like to have a proof that you are a long term resident.
Our advice would be to shop around to see which banks offer special products for non- residents or for expats. But, of course, if they refuse your application it has to be based on a commercial justification. You can never be discriminated in the EU on basis of your nationality.
Regarding the money transfers, for an EU country that uses the euro as a currency they should charge the same amount for a national or a cross-border transaction. And it will happen for every transaction; for cash withdraw or when you pay with your credit card or with your debit card.
What happens with countries that are in the EU but don't use the euro as a currency? They should charge the same amount when you are doing a national or a cross-border transfer in euro.
Another good thing to know is that the money in your EU bank is protected in case of bankruptcy of the bank; up to a 100,000 euros and in many countries it is even more.
- For more information about your rights in the EU, call 00 800 6 7 8 9 10 11 or check out the website
- If you would also like to ask a question on Utalk, click on the button below.