EU lets France off the hook again for breaching spending rules
Comments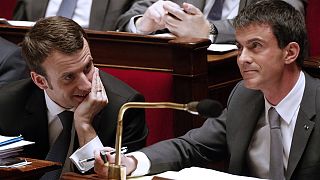 France has been let off the hook yet again for breaking EU spending rules.
Paris has breached an EU mandated budget deficit target of three percent of GDP for the past seven years.
But now the European Commission will give the French government two more years – until 2017 – to get their books in order.
"When a situation requires sanctions. We should and we can use them. That's not the case here," said Pierre Moscovici, the EU economics commissioner and a former French finance minister.
"These two years are essential. Reforms will be vital if competitiveness is to improve. We've seen that competitiveness is getting back on track albeit slowly and that the trade deficit remains huge."
EU figures show France's budget deficit was 4.3 percent of GDP last year. It is forecast to be 4.1 percent in 2015.
Officials at the European Commission are the guardians of the eurozone's spending rules
Countries that break those rule can potentially be fined as much as 0.5 percent of GDP if they don't act effectively.