MEPs want tougher labelling rules
Comments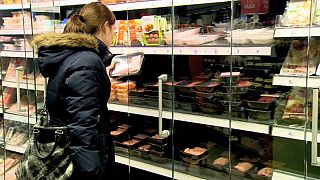 MEPs said on Wednesday that all processed meat products should carry labels stating their country of origin.
The labels have been championed by consumer groups.
The EU moved to introduce country of origin labels after the horsemeat scandal of 2012.
That's when it emerged that horsemeat had found its way into other processed meat products.
Businesses and centre-right MEPs say it will mean additional costs for firms.
"Ninety percent of those enterprises who produce this kind of food are SMEs and say they are really afraid of massive additional costs," said Renate Sommer, a German parliamentarian.
Parliamentarians voted by 460 votes to 204 to urge the European Commission to propose a new law.
But the motion by MEPs is non-binding and the EU executive is not obliged to act on it.
Italian MEP Elisabetta Gardini said: "We should see each case, because the industry has most of this information because there are other regulations that that already require, so I don't think there will be major costs."
New rules on country of origin labelling for fresh meat products enter into force in April.
Consumer groups argue such laws help customers to choose which products to buy at the supermarket.