Belgian jihadist 'mastermind' jailed for 12 years
Comments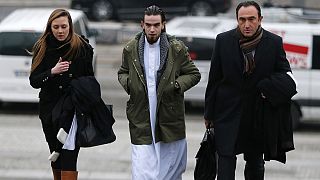 A Belgian court has jailed the leader of an Islamist group for 12 years.
Fouad Belkacem led Sharia4Belgium, which was branded as a "terrorist group" by a judge in Antwerp.
He was found guilty of recruiting young men to join ISIL militants in Syria & Iraq.
Another 44 members were found guilty of terror-related offences.
Only seven of those were in court.
But most of them were convicted in absentia, believed to still be fighting in region.
An estimated 350 Belgians have made the journey.
Brian de Mulder, the son of Ozana de Rodrigues, is one of those people.
"That man has taken my son, my son has left without saying goodbye and nothing. he has taken son's of many people here in Belgium and now he only gets 12 years – while living in a Belgium prison is like living in a hotel," de Rodrigues told reporters.
Michaël Delefortrie's received a three-year suspended sentence.
His lawyer Ergun Topsaid he deserves a second chance.
"It's a clear signal for youngsters who have gone to Syria, who are there now, that they can come back. that, yes, they will have to take their responsibility, but that clearly those who have no blood on their hands can re-integrate back into this society," the barrister told journalist.
The long prison sentences for some of those convicted are meant to serve as a deterrent, says Olaf Bruns, euronews correspondent.
It is an important aspect in this European country has sent the highest number of jihadists to Iraq and Syria per capita, he adds.