NATO finalises spearhead forces to counter 'Russian threat'
Comments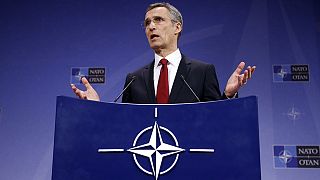 NATO on Thursday confirmed that it would bolster its presence in eastern Europe to counter a perceived Russian threat against its Baltic members.
Defence ministers met in Brussels to finalise the final details of a spearhead rapid response force that can be deployed at two days' notice.
NATO's current Response Force can be deployed within a maximum of 30 days.
The alliance will also set up six command centres across eastern Europe as well as a regional headquarters in Poland.
NATO Secretary General Jens Stoltenberg told reporters: "That is about enhancing our NATO response force. The current size is about 13,000. I expect that they will decide on a force that will be around 30,000. And part of that enhanced NATO response force, I expect will be the establishment of this spearhead force, which I expect will be of a size of around 5,000."
The announcement acts upon a pledge at the alliance's summit in Wales last September.
Another issue being discussed on the sidelines of the meeting is whether to send military aid to Ukraine
When asked by euronews whether the UK would support that, British Defence Secretary Michael Fallon said:
"The Ukrainians are in desperate need of equipment and help and training of all kinds. They face a growing aggression in south and southeast but we are reviewing now what help we can provide."
NATO officials say this rapid reaction force is a purely defensive move.
But that argument is unlikely to go down well in Moscow, which already sees expansion by the alliance in eastern Europe as a security threat, reports euronews' James Franey.
And tensions will likely rise further if the West decides to send military to Ukraine, our correspondent adds.