EU interior ministers back airline data sharing
Comments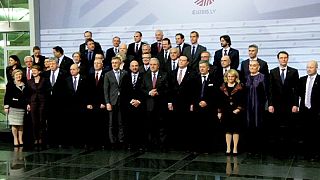 EU interior ministers have backed plans for airlines to share passenger data.
They say it is essential in the fight against terrorism.
However, it will require the approval of EU leaders and MEPs before it can become law.
The bill was voted down in the European Parliament once before in 2013.
The proposal would force airlines to share Passenger Name Record (PNR) data with European security agencies for flights entering or leaving EU airspace.
Information such as passengers' names, travel dates and payment details would be transferred to security authorities.
Civil liberties groups say it is too draconian and amounts to an invasion of privacy.
France's interior minister Bernard Cazeneuve said "we should have this instrument available and we need it."
"But to make it happen we will need to find a compromise with MEPs with regards to the protection of personal data," he added.
The EU's anti-terror czar Gilles de Kerchove wants to reform the bloc's free movement rules and introduce tougher, systematic checks at its bloc's external borders.
The Spanish interior minister Jorge Fernandez Diaz told reporters: "there is a consensus of the majority in favor of this proposal of the anti-terrorism coordinator, because we are all conscious that we are facing a level of threat that we have never seen before."
To tough up controls, there will need to be an increased in the quality of the checks at all airports through which people can enter the EU's Schengen-area, reports euronews' Margherita Sforza.
France has already announced an increase of security staff, but it remains to be seen if the other member states will follow France's example, our correspondent adds.