EU extends first set of Russian sanctions
Comments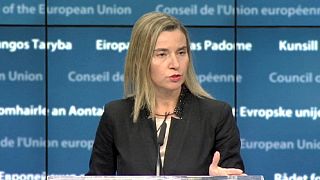 EU foreign affairs ministers on Thursday agreed to extend sanctions against Russian officials and pro-Russian separatists in Ukraine.
The measures, which include travel bans and asset freezes, have been extended for another six months
EU foreign policy chief Federica Mogherini said that "the EU is ready to take further measures and to prepare further measures in the weeks to come if the situation doesn't improve."
"What we have decided today (are) three different things: extension in the time of the existing sanctions, when it comes to the list. Preparation for decisions of news names to add to the list, which is additional. And third, to start the preparation of any further measures."
EU leaders will meet for a summit in Brussels on February 12th to debate those further measures.
Heads of state and government will discuss the Ukraine crisis and terrorism.
But the bloc's divisions over Ukraine will be a bigger challenge to overcome in July.
That is when sanctions against entire sectors of the Russian economy expire and would be up for renewal.