The devil in the detail: know your rights in service contracts
Comments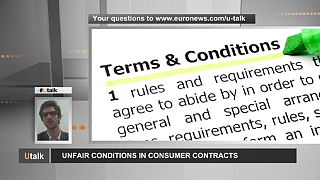 What protection do consumers have in services contracts? That's the question in this edition of Utalk. It comes from Andrew in Dublin: "I wanted to change my mobile phone operator, but when I checked my contract I realised that I should have given 6-months' notice. Is this fair ? Do I have any means of recourse ?", Andrew, Dublin, Ireland.
The response is from Jean-Baptiste Meert, Europe Direct Communication Officer: "When you buy goods and services anywhere in the EU – whether from a website, local shop or seller outside your home country – EU law protects you against unfair standard contract terms.
The standard contract terms used by traders, whether they are called "terms and conditions" or are part of a detailed contract that you may actually have to sign, have to be fair.
Contract terms must be drafted in plain, understandable language. Any ambiguities will be interpreted in your favour. Under EU law, in order to be fair, standard contract terms may not create an imbalance in the rights and obligations of consumers on the one hand and sellers and suppliers on the other.
Automatic extension of fixed duration contracts may be unfair if the deadline for cancelling the contract is unreasonably early, such as having to give notice 6 months before the expiry of a one-year contract.
Other examples of unfair contract terms include cancellation at short notice, excessive compensation, hidden terms, one-sided changes to the contract, etc.
A national or European consumer centre could provide further assistance with your efforts to clarify whether the contract terms in your specific case were unfair".
For more information about the EU, call 00 800 6 7 8 9 10 11 or check out the Youreurope website
And if you would also like to ask a question on Utalk, click on the button below.