EU's Juncker sworn in amid ongoing tax row
Comments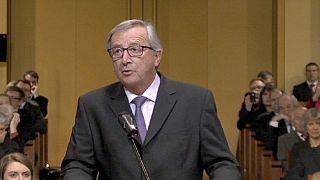 Embattled European Commission president Jean-Claude Juncker has officially been sworn as the head of the EU executive amid an ongoing tax row.
He and his colleagues took an oath of independence at the European Court of Justice in Luxembourg.
It came as fresh allegations emerged major multinationals brokered favorable tax deals during Juncker's near two-decade tenure as prime minister of the Grand Duchy.
New documents obtained by the International Consortium of Investigative Journalists claim to reveal more than thirty companies which engaged in such practices.
But the revelations come at a time when G20 countries, including the EU, are trying to launch a global crackdown on tax avoidance and tax evasion.
According to the documents, Koch Industries, Disney, Skype and Canada's Bombardier funnelled profits through Luxembourg to lighten their fiscal bills.
There is no suggestion of any crime having been committed, the companies say the agreements were in line with the law.