New NATO chief vows to defend Turkey
Comments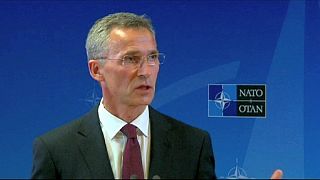 NATO will defend Turkey if the country is ever attacked, the alliance's new chief Jens Stoltenberg said on Wednesday, amid increased instability on its borders.
The former Norwegian PM will visit Turkey next week as Ankara mulls using force to repel ISIL militants in Iraq and Syria.
Turkish lawmakers are expected to debate authorising military action on Thursday.
"Our responsibility, the basic responsibility, is to stand up and be very clear that we are going to protect Turkey. That collective defence, Article 5, is something which is also going to be applied if Turkey is in any way attacked," said Stoltenberg in his inaugural press conference as NATO secretary-general.
Article 5 is NATO's mutual self-defence clause under its founding treaty; it states that an attack on one member is an attack on all NATO allies.
NATO members pledged at a summit in Wales, UK, in September that they would halt the slide in defence spending, lifting it to two percent of each country's GDP within ten years.
But similar promises have been made in the past. In Newport, NATO leaders signed up to a pledge to boost defence budgets, rather than a commitment.
It was not that long ago that NATO was dismissed as a relic of the Cold War, reports euronews' James Franey.
But now threats close to its eastern frontier and emerging new dangers in the Middle East have given it a fresh sense of purpose, our correspondent says.
Julian Lindley-French, Senior Fellow at the Institute for Statecraft in London, told euronews that the ex-Norwegian premier faced a number of tough challenges as he took office.
"It's called the 21st Century. Get used to it!," said Lindley-French, an expert in defence policy and strategy.
"What we have seen in the last four years are defence budgets effectively 'raped' to keep social welfare, health, education, moving in countries in the midst of austerity. So in a sense what Stoltenberg has got to do is present the facts of the world in which Europeans now live," he added.