New rights for consumers in the EU
Comments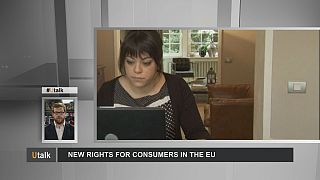 Anna from Prague, Czech Republic asked: "I heard that a new EU regulation extending the rights of European consumers has come into force. How are we better protected?"
John Phelan, the Communication Officer at The European Consumer Organisation (BEUC) answered: "Indeed, it's true to say that we, as European consumers within the single market, are better protected as of June of this year because the European Union has introduced a set of new laws called the Consumer Rights Directive. In that Directive there is a series of rights for consumers, and there are also obligations on traders whenever they're selling online. And there's also a series of protection for customers against business malpractices.
"And one of the most valuable things about European law is the fact that it is applicable across all 28 Member States. So everyone gets clarity and everyone gets the security of having the same rights across all of those countries whether you're a Finnish person buying from an Italian website from maybe a German seller. And that's a process we call "legal harmonisation" – harmonisation of rights and protections.
"So what is it specifically within this Consumer Rights Directive? Well the first big right for consumers is a 14 day cooling off period, which means that whenever you buy goods online or conclude a contract for a service, you now have 14 days, once you've received the goods to return them. No questions asked! If you don't like it or it's defective, no question asked; you have a 14-day right of return.
"There are also some obligations on traders: they must deliver goods bought online within 30 days of you ordering it, unless you've agreed otherwise. If again, you return the goods – if an item is defective or if you don't like it – you must get a refund within 14 days.
Finally there is a series of online protections which solve some headaches for consumers such as pre-ticked boxes. Let's say, for example you're buying a flight ticket and there is a pre-ticked box agreeing to a hotel or a car rental: those types of pre-ticked boxes are now banned across the EU. And it means that you have to opt in instead. Also we're seeing a ban on credit/debit card surcharges online which means you can say goodbye to paying 10 or 12 euros for using a Visa or a Mastercard online.
"And finally another big addition is the expensive customer service phone lines we are used to which prevent you from calling into a business because it might cost you 3 euros a minute: those charges are gone too. And the businesses must offer much more fair pricing for getting in touch with the customers."
If you would also like to ask a question on U-talk, click on the button below.