EU's great eastward expansion 10 years on
Comments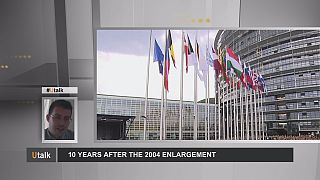 A decade ago the EU took a great leap forward, or rather eastward, when ten mostly former Soviet countries joined the Union.
That's the question in this edition of Utalk, which comes from Joanna in Warsaw: "On May 1 2004, 10 central, eastern and southeastern European countries joined the EU together. A decade on, how do you assess the results of this complex and ambitious enlargement?"
The response is from Philippe Perchoc, political analyst and research fellow at the Catholic University of Louvain (Belgium):
"Although this enlargement was much criticized before it took place – and still is today -, I think it was necessary from an historic point of view because the construction of Europe took place in the absence of most of these countries for reasons related to the Cold War and it could not continue without them.
"It seems to me that from an economic point of view, some of these countries have made incredible progress. For instance in 2012, the Czech Republic's GDP per capita was higher than Portugal's. And this is the case for many other of these new member states.
"Enlargement has also helped to stabilize part of the continent. Indeed, we still remember what happened in the Balkans, or what is currently happening in Ukraine. It could have occurred in Hungary with Hungarian minorities living in neighboring countries, but it didn't happen.
"We can also see that there is a new kind of leadership emerging from these countries. For example Poland, which has played a very active role over what's happening in Ukraine.
"We can also see a new pluralisation of Europe. We used to think of the continent in terms of an east/west split. But today we see a new north/south split emerging, partly because most of the eurozone countries come from the north part of the EU and because several new member states are now part of the eurozone.
"So, it shows that 10 years after the 2004 EU enlargement, there is a new European dynamic. We can no longer think in terms of 'old member states' or 'new Member States', but rather along new European lines."
If you would also like to ask a question on U-talk, click on the button below.