EU aims to bring in Serbia, Montenegro by 2025
Comments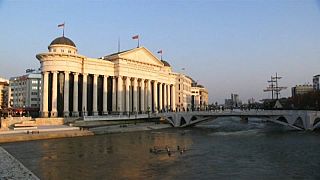 Serbia and Montenegro are likely to be the next countries to join the European Union, possibly by 2025.
After years of stop-start progress, the EU is making a new push to bring in the Western Balkan nations.
"Either we export stability as the European Union or we import instability, and we have seen how fragile the region is, how fragile it still is today," European Commissioner for Expansion Johannes Hahn told Reuters.
European Commission president Jean-Claude Juncker is planning a visit to the six countries. They are Albania, Bosnia, Kosovo, the former Yugoslav Republic of Macedonia, Serbia and Montenegro
The Former Republic of Macedonia could also be invited to join NATO if it can resolve a long-standing dispute with Greece over its name.
Incorporating and stabilizing the Western Balkan region is becoming increasingly urgent for the EU, Konstantinos Filis, Director of Research at the Institute of International Relations in Athens, told euronews.
"Obviously faced with the dangers of the Western Balkans becoming a security blackhole with rising nationalisms, with a possibility of a confrontation between Moscow and Washington which is increasing tensions between nations and ethnic groups in the region and also China's economic penetration to the wider region, the EU is approaching the prospect of a new enlargement wave with greater flexibility".
Commissioner Hahn pointed to the recent killing of Kosovo Serb leader Oliver Ivanovic as a sign of ongoing instability in the region.
According to an EU draft Balkan plan reported by Reuters, the bloc's strategy depends on Serbia and Kosovo normalizing relations by the end of 2019.