Bonus interview: Berhanu Wakuma, Ethiopian migrant
Comments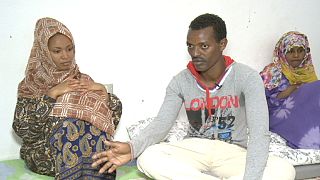 Berhanu Wakuma is an Ethiopian migrant, who traveled illegally on a boat from Libya to Lampedusa, along with some 100 migrants from Ethiopia, Erythrea, Sudan and Somalia.
After the engine broke down, their boat drifted at sea for a week, before they were rescued by Tunisian coastguards.
The group is now stranded in Tunisia, waited for the UNHCR to decide on their status.
Berhanu delivers a compelling story of the migrant's ordeal.
He pleads for the world to understand the reasons for such perilous journeys, or the tragedies seen on the shores of Lampedusa will never end he says.