Get prepared for the digital future!
Comments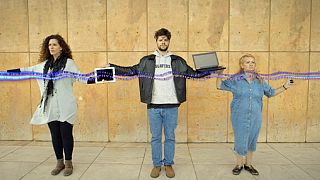 Benefiting from the advantages of new digital technology is something that many people now see as an important right. But how do we reassure those who are still wary about connecting to the web, or those who are still not part of the online revolution?
Experts increasingly talk about what they call 'digital rights'. The online economy is growing seven times faster than the rest of the economy, but there are questions about whether we are keeping up with the pace when it comes to protecting ourselves and knowing our internet freedoms.
The European Commission is hoping that a big part of our recovery from the debt crisis will come from online activity, and one of the countries hoping to cash in on that is financially-troubled Greece. However, the cyberspace users and customers of the future will not only have to have the means to connect but also feel safe about doing so.
Euronews visited one family in Athens who have a computer but it is not hooked up to the web. The couple decided not to have an internet connection at home because of concern about the impact on their two young children.
The mother, Korina Apostolopoulou, told Right On: "We don't believe they can have any control over the advantages the internet offers or the dangers they face. In my use of social media, I understood that many profiles are fake, backed up by other fake profiles. So, with young kids, I don't believe we can have the internet at home, used by the children."
Authorities are struggling to keep up with the rapid development in the information technology sector and there is concern that potentially harmful, unregulated practices are going on unnoticed. One lawyer who is an expert in the field, Nikos Prentoulis, agrees that people should not only rely on the law for protection.
"It is true that policing of the internet is difficult, because it concerns a whole range of important civil rights such as privacy," he told Euronews. "Our experience shows that officials who deal with internet protection are successful enough. But we cannot have total protection, something that is totally sufficient. It's also up to us to be careful when it comes to staying safe on the web, what we post on facebook and other social media."
It is now a political priority to get more people connected. A reform of European data protection rules is already underway, and authorities are attempting to boost consumer protection online. Campaign groups also want more action on cyber-crime, bullying on the internet and the protection of children. Another priority is ensuring access to the internet for everyone, at affordable prices.
Right On's Seamus Kearney reported: "To raise awareness about internet freedoms, Europe already has its own code of online rights. This brings together a whole range of legal principles that already exist under EU law."
Governments are being warned that key protections must be enforced to boost confidence in the web. These include the safeguarding of our personal information; the right to privacy; transparency in online agreements; freedom of expression and information; a minimum quality of service; and the possibility of internet access for everyone.
While some say the web is a bad place to avoid, others say now it can only be embraced.Euronews spoke to a sociologist who says there has always been resistance to new technology, but the increase in opportunities on the internet is leading to a more open society.
Konstantinos Koskinas, a sociology professor at Panteion University, said: "It is very important to redefine the meaning of our rights, taking into account the opportunities we get from communicating and living on the internet."
"The dangers are no different to the dangers we already have in our society. However, they are easier to see, and we have the opportunity to better understand them and prepare ourselves, our society, our countries, to be more effective in the way that we control and predict the results of a dangerous act or criminal action."
Athens mother Korina Apostolopoulou said: "For me, as well as the children who use the internet in Greece today, what's needed is not just technical support or training on how to use the internet. We also need to know how to double check the sources, to make sure that the information we get from the internet is real and not fake."
That is a view backed up by many, who say schools and governments must do more to teach ordinary people how to have the ultimate control over their lives in this new digital world.