EU-law on bilateral tax agreements explained
Comments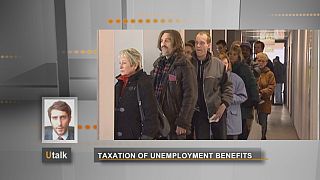 In this edition of Utalk, Martin from the Czech Republic posed this dilemma to euronews: "I am from the Czech Republic and am actively looking for a job in Germany. I have transferred my Czech unemployment benefits abroad, and now receive monthly payments from the Czech Republic while living in Berlin. Can Germany tax my benefits while I am looking for a job there?"
His question was answered by Bruno Cortese,Communication Officer at Europe Direct:
"There is no EU-wide law regulating how people looking for work abroad are to be taxed. There are only national laws and multilateral or bilateral tax agreements between countries, and they do not cover all eventualities. Under many bilateral tax agreements, unemployment benefits are treated as 'other income' that is subject to tax only in the country of tax residence.
Nevertheless, the precise tax treatment depends on the terms of the relevant bilateral tax agreement in place. In this case, it would depend on the bilateral agreements between the Czech Republic and Germany.
If you spend a short period – less than 6 months in a year – in another EU country without working there, you probably won't be considered a resident for tax purposes in that country. In that case, normally, your unemployment benefits should only be taxed in the country that pays them.
If you spend more than 6 months in a year in another EU country, in most cases you will become a tax resident of that country and, for that reason, your unemployment benefits may be taxed there.
However, under most bilateral tax agreements, if you keep a permanent home and strong personal and economic ties with your home country, you will remain a resident for tax purposes in your home country. In that case, the other EU country may not be entitled to tax your unemployment benefits.
For any questions about the taxation rules applicable to people looking for a job abroad, make sure to contact a tax office in both your country of origin and in your new country.
For more information about the EU, call 00 800 6 7 8 9 10 11 or check out the website: http://europa.eu/youreurope/citizens
And if you would also like to ask a question on Utalk, click on the button below.