Overfishing: can the EU influence change?
Comments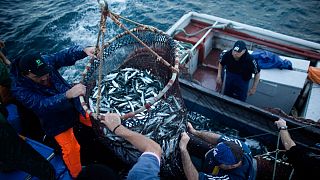 The darkest warnings are becoming reality: the world's fish stocks are collapsing. Many blame the so-called "supertrawlers" supported by public money.
EU subsidies, part of the Common Fisheries Policy (CFP), have helped modernise the European fishing fleet. But that fleet now shares responsibility for the overfishing which is destroying regional ecosystems.
A petition by the World Wildlife Fund, signed by 150,000 people, calls on the European Parliament to fight for a tougher reform of the CFP.
A study commissioned by the WWF warns that the amount of fish caught by Europe's fleet could drop by 30 percent within ten years if there is no real reform. Such a decline would cost the EU 50,000 jobs.
What needs to be done to save European and worldwide fishery? Can Europe influence the global fishery policy before it's too late?
Connected with us for this edition of The Network are:
- Here at the European Parliament in Brussels, Ulrike Rodust, EP rapporteur for the Common Fisheries Policy
- Also at the European Parliament, Saskia Richartz, political advisor for Greenpeace
- And in The Hague, Gerard van Balsfoort, president of the Pelagic Freezer-trawler Association, which brings together 25 fishing boats.